Dr. Muqtedar Khan's Khanversations with Delaware's Leadership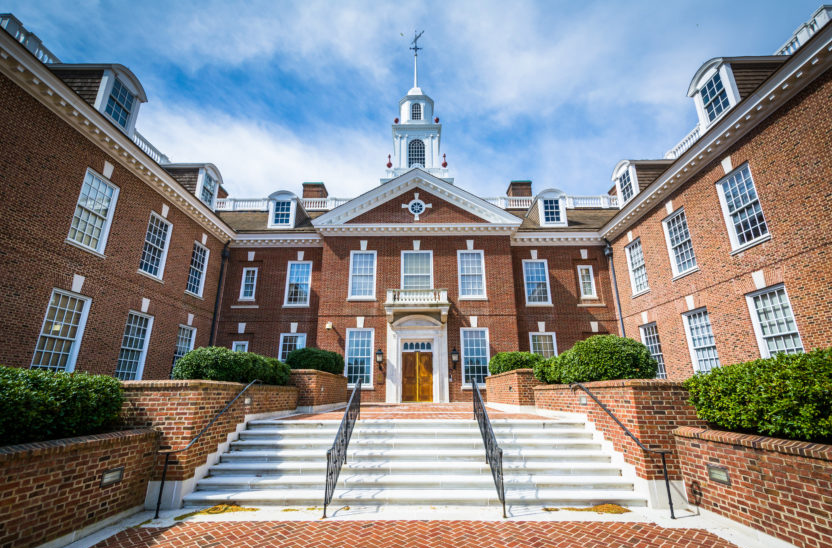 This series of interviews — Khanversations — were conducted partly to share how Delaware's political leaders were combating the Coronavirus Pandemic in 2020 and also to use as primary source material for Dr. Muqtedar Khan's classes on Good Governance and Contemporary Political Ideologies in the Spring semester of the same year. Click on the images to watch the videos or to access the playlist.
Pandemic Ramifications and US-China Rivalry | A Khanversation with U.S. Senator Christopher Coons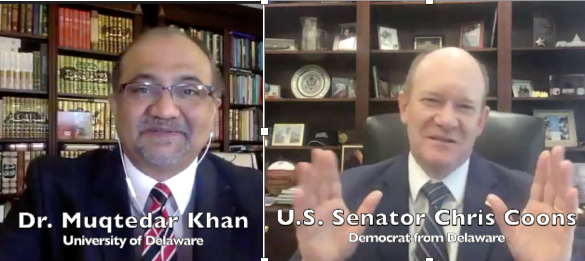 Folks I had a fascinating but serious Khanversation with Senator Chris Coons today (05.11.2020). We talked about China's challenge to US global leadership and our (mis?)management of the pandemic and its domestic and international ramifications. Enjoy and share it with your networks.  Click here to watch.
Congressional Responses to Covid19 | A Khanversation with U.S. Rep. Lisa Blunt Rochester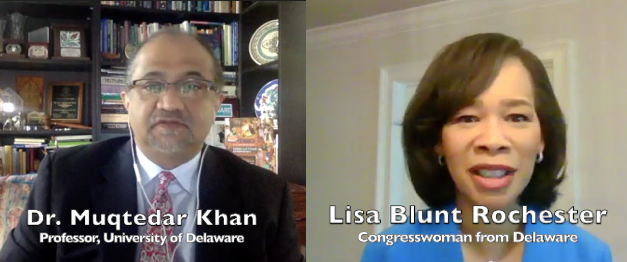 In this Khanversation, recorded on May 02, 2020, Congresswoman Lisa Blunt Rochester, a Democrat from Delaware, discusses both personal and Congressional responses to the Coronavirus pandemic. She discusses the Stimulus package, issues of equity and accountability in its execution and the need to ensure that minorities and poorer communities have access to healthcare and government assistance. She shares her personal experiences with both hate and goodness that people are showing during this testing moment in history.  Click here to watch.
Pandemic and Healthcare Policy |  Lt. Governor Bethany Hall-Long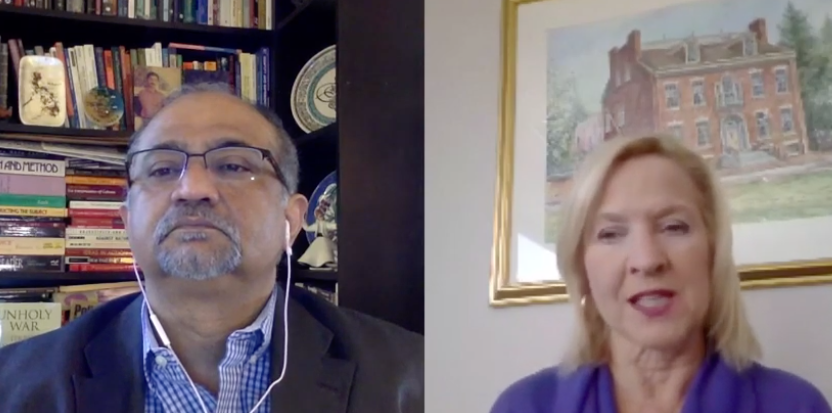 On March 26th 2020, as Coronavirus related deaths crossed 1000 in the US Lt. Governor Bethany Hall-Long discusses the Coronavirus Pandemic and Healthcare Policy in Delaware with Dr. Muqtedar Khan. She talks about how well Delaware state has been preparing for such an eventuality and talks about protecting healthcare professionals. The multiplier effect on the ongoing opioid epidemic and mental health crisis is also discussed. Click: https://youtu.be/vHvZKc4dVEA
Covid19 Crisis and Multiculturalism | Senator Stephanie Hansen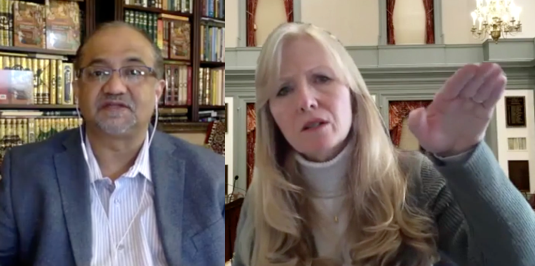 Senator Stephanie Hansen is Delaware State Senator for District 10. She is also a former environmental scientist and a practicing environmental lawyer. In this Khanversation on April 23, 2020, she discusses the mental health and substance abuse implications of the Coronavirus pandemic and the measures taken to resist its spread in the State of Delaware. She also discusses her initiative to develop a multicultural coalition that recognizes the diversity of her district and seeks to address the unique challenges diverse communities face. https://youtu.be/2aInScHhOz0
Transparency and Accountability | State Auditor Kathy McGuiness
In this candid interview on April 06, 2020 Delaware State Auditor talks about the role and function of a State Auditor. She shares her story of reviving and reinventing this constitutionally mandated agency. Transparency, Accountability and Rule of Law are important elements of Good Governance and the office of State Auditor addresses these key issues. The goal, McGuiness says is to ensure that tax payer's dollars are being spent without waste or fraud.  Click: https://youtu.be/fhJqQThyIrw
Health Policy and Good Governance | State Senator Bryan Townsend
State Senator Bryan Townsend, Chair of Health and Human Services Comm of the Delaware Senate shares DE's strategy and preparedness for the coming Tsunami of Covid19 infections. He also discusses his views on good governance and the difference between governing from the executive branch and from the legislative branch. Click: https://youtu.be/XKb8ulL90BM

Leadership and Good Governance | County Executive Matt Meyer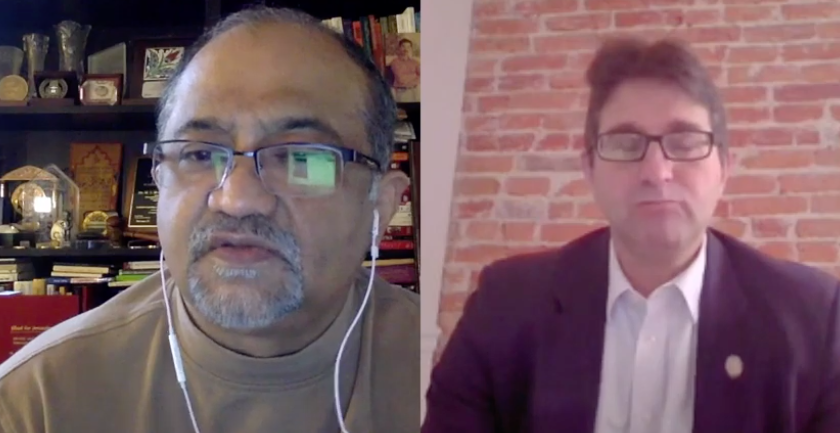 On march 21, 2020 Dr. Muqtedar Khan spoke with County Executive Matt Meyer of New Castle County, Delaware on the state of COVID19 in New Castle and the level of preparedness of the county government to deal with what is yet to come. Matt Meyer discusses his personal governing philosophy and also reflects on the future of the county and what it means to be in an elected executive position. He has advice for young students about to graduate from University. Click: https://youtu.be/RowIptIK9h0
The Impact of Coronavirus Pandemic on Academia and Students | Dr. David Redlawsk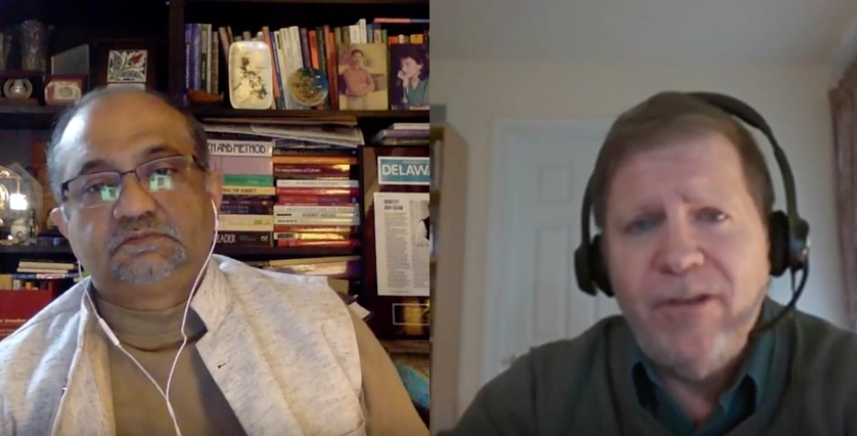 Dr. Redlawsk and Dr. Khan talk about the impact of Coronavirus classes, on research and the future of academia. They also explore the pros and cons of online learning and critical issues such as the tenure clock, teaching evaluations and grading policies (P/F versus Letter Grade. Prof Redlawsk is James R. Soles Professor of Political Science and Chair of the Department of Political Science and IR at the University of Delaware. Click:  https://youtu.be/HqkoVipUwC0