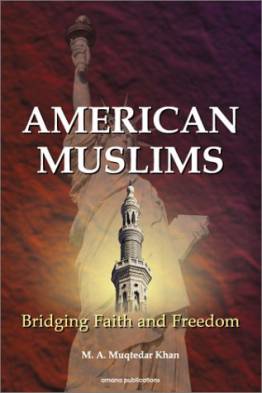 REVIEW: Bridging Faith and Freedom
Reviewed by Usama Khalidi
It's an inarguable fact that America, representing the West, has a great impact on the lives of people everywhere, regardless of whether they are aware of it or not. Muslim thinkers and leaders have had a polarized view of everything that the west stands for : a model worthy of emulation in its achievements of a prosperous civil society, or the Great Satan responsible for all the evils in the world, a monster that must be condemned in all its aspects. Muqtedar Khan, a Hyderabad, India-born professor of political science at an American college, finds elements of truth in both positions, but thinks that both suffer from a lack of balance.
In his book, American Muslims: bridging faith and freedom, Khan argues that "we not only have to understand the modern west in a more balanced way and also develop a discourse for the reconstruction of (an) Islamic iden! tity that is neither weakened nor distracted by the enormous shadow of the West. Until we as Muslims can go beyond blind imitation of the West or outright rejection of its values, we will not be able to construct an Islamic self, independent of western influence. It is essential that we develop a positive and constructive understanding of the 'other'. Only through such a positive and creative act will we be able to reconstruct a vibrant and meaningful self."
Muslims in America are ideally situated, Khan says, not only to spread Islamic values in the west "but also influence and reshape the destiny of traditional Muslim societies", such as those in Asia and Africa. This is because the American Muslim community has enormous intellectual talent, a highly educated population, and a free and ever encouraging environment. The task of not only articulating but also practising a moderate, peaceful, tolerant, inclusive, compassionate and moral model of Islam falls on the Americ! an Muslim community because they live in relative freedom and prosperity. Freedom from coercion whether from the state or from the clergy is a necessary condition for any social change to take place, Khan says.
With their strength estimated to be anything between three to seven million in the United States, the American Muslims seem to have accommodated modernity in their lives, just as America has accommodated Islamic practices within its culture. Khan believes that it is Islamic political theory that lags behind actual practice.
The theory that there is no separation of deen and duniya in Islam is one that has always lagged behind actual practice in Islamic history, from the time of the Abbasids, to the Ottomans, the Safavis and the Mughals in India.
Many American Muslims have found solace in a traditional formulation of Islamic values, which require them to avoid integrating themselves into the American society. But many others have dea! lt pragmatically with issues of modernity, such as acceptance of democracy, the equality of sexes, tolerance for dissenting religious values, and such theological matters as the possibility of attaining Jannah for non-Muslims.
They have integrated themselves into the mainstream society while maintaining their Muslim identity. Whereas, in many Muslim countries the dangers to a modern but Islamic life are physical. Reformers in these countries either face repression from the state or from the clergy establishments.
But in the west, Khan says, it is the manifest destiny of American Muslims – to demonstrate to the rest of the world the relevance of Islamic values to a modern/postmodern society. How? By interpreting Islam in such a way that it facilitates a virtuous existence, here and now. Thus they can convince the West that Islam will not only enrich it but will also show the Muslim world what Islamization should be.
American Muslims cannot realize their ! destiny unless they actively imagine themselves as agents of change. Ijtihad is the standard tool for social self-renewal. Khan argues that by reinterpreting reality through Islamic lenses and simultaneously reinterpreting the sacred texts with an eye on contemporary conditions, the Mujaddids systematically reduce the distance between text and time, between reason and revelation, between conscience and consciousness, between the here and the hereafter and between values and politics.
Basically, what Khan wants American Muslims to do is to shed the traditional Islamic discourses brought over from the old countries and rediscover Islam by going back to the Prophet's time for inspiration, to reinterpret Quran and Sunnah and draw meaning for such western categories of thought as individual conscience, individual responsibility, human rights, equality, gender equity, freedom of choice, minority rights, and respect for the environment. In the process, American Muslims will a! cquire a share of the political power, which they can use to make a difference in the lives of Muslims in the rest of the world.

American Muslims: Bridging Faith and Freedom
By M.A. Muqtedar Khan
Amana Publications, Maryland, USA.
Website: www.Amana-Publications.com
email: amana@igprinting.com