But academics, policy analysts offer solutions at UD forum
By BETH MILLER, The News Journal, 05/17/2006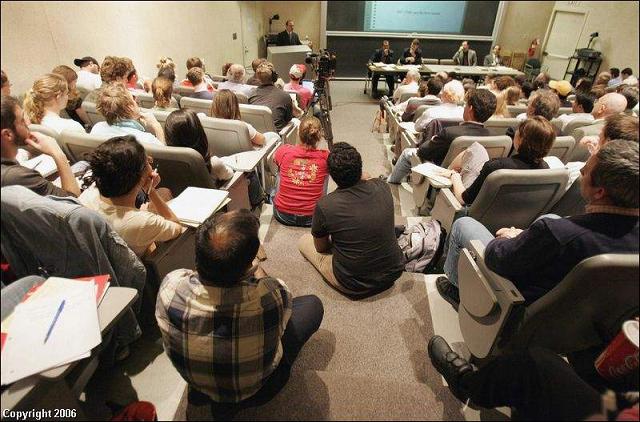 NEWARK — With a long history of conflict, hostilities and misperceptions as the backdrop, it was no wonder that the "State of US-Islamic World Relations" was described in gloomy terms at a University of Delaware panel discussion Tuesday night. About 200 people packed a room in Kirkbride Hall to hear five panelists — academics and policy analysts — describe facets of the tension between the United States and Islamic states around the globe.
One of them, UD professor Stuart Kaufman, traced the worldwide decline in public support of the United States. He said the country is in a state of "low-intensity war with the entire Muslim world," and ended his stinging commentary on the "catastrophic, inept" foreign policy by saying he had no answers.
"I'll just leave being really depressed about the Middle East," he said.
Peter Singer, senior fellow and director of The Brookings Institution's project on U.S. relations with the Islamic world, offered suggestions on how the country could better face its challenges.
Among his recommendations:
Move away from the Cold War mentality that invests in post-Soviet Union scientists and work toward developing a new generation of Muslim scientists that could build up their economy.
• Find ways of leveraging American strengths in business, arts and science. "We got more out of McDonald's in the Cold War than we did out of any MX missile," he said.
• Invest more in humanitarian aid.
Many questions remain about how political and religious reforms will look in this century, Singer said, and many Muslim-majority states are looking at huge rates of population growth that will put pressure on governments. The United States must find ways to "measure up to its own best traditions," he said.
Mahmood Monshipouri, a professor of political science at Quinnipiac University, urged the United States to address its differences with Iran with direct negotiations that do not include intimidation.
Monshipouri said the American news media tend to exaggerate the Iranian threat. Efforts to disrupt Iran's nuclear program would increase hostilities and mistrust between the two countries, he said, which actually have many common interests, including stability in Iraq and Afghanistan, and concerns about terrorism, oil and Israel.
Democratic transitions, he said, would be more successful at a gradual pace, emerging from homegrown initiatives. "Democracy is more likely to emerge from the daily tussles and struggles," he said.
Mumtaz Ahmad, a professor of political science at Hampton University, noted that anti-Americanism in Pakistan no longer is confined to religious groups, but can be seen throughout the society.
The anti-American sentiment of many Muslims is not deeply embedded, though, said program organizer Muqtedar Khan, a nonresident fellow of The Brookings Institution and an assistant professor of political science and international relations at UD. It has more to do with how America is perceived as treating Muslims.
Public opinion of the United States improved when American dollars poured in after the devastating tsunami, he said.
"Muslim public opinion is significantly rational," he said. "You invade them, they hate you. You help them, they love you."
The discussion was sponsored by the Institute for Social Policy and Understanding, with funding from the Tides Foundation, in partnership with UD's Department of Political Science and International Relations and The News Journal.