WELCOME TO THE BOOK TOUR  OF ISLAM AND GOOD GOVERNANCE BY DR. MUQTEDAR KHAN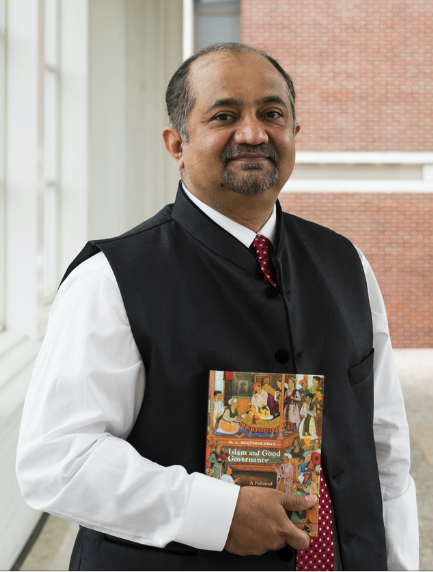 Forthcoming Lectures, Seminars and Workshops based on Islam and Good Governance: A Political Philosophy of Ihsan
Order Your Copy by Clicking Here  To Read about it Click Here.
The Chicago Tour | September 14-16, 2019
Sept 14 Saturday:  Al -Azhar Islamic Foundation
4:30 to 6:00 PM: 160 Hawthorne Rd,
Barrington, IL 60010
Contact: RSVP info@azharamerica.org
Sept 15, Sunday:  ISPI and Muslim Civic Coalition
Lecture Followed by a dialogue.
2:00 to 4:00:  PM Oak Brook Public Library,
600 Oak Brook Rd, IL 60523
Contact: Javeed Akhtar: 630-567-5528
Rasheed Ahmad: 262-885-1961
Sept 16, Monday:  American Islamic College
6:00 – 7:30 PM 640 W. Irving Park Rd.
Chicago, IL 60613
Columbus Ohio
28th September, 2019 Annual Convention of AFMI 
American Federation of Muslims of Indian Origin
The West Indies Tour
October 2nd: University of the Southern Caribbean (Trinidad)
October 4th: The University of the West Indies (Trinidad)
The Washington DC Tour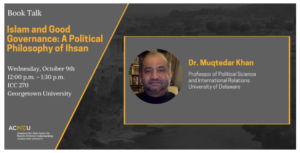 October 9th: 12:00-1:30 PM in ICC 270 at the Al-Waleed Center ACMCU  Georgetown University
October 16th: Creative Associates Inc, Bethesda, MD
The Delaware Tour
St. Andrews High School  October 23rd.
November 13th University of Delaware
Past Lecture

May 22: Islamic Community Center of Lancaster